Vaulting
Why should I store my materials with SummitDay Media?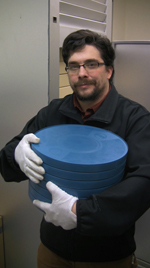 Peace of mind. Organizational staff turnover can occur suddenly, and incoming staff may not grasp the importance of media they find. Audiovisual media also require special care. Films and tapes are essentially thin layers of plastic with metal or chemical emulsion bonded to it. They require specific temperature and humidity conditions to play back properly, and dust, heat, cold, dry or wet conditions cause damage that can ruin your investment.
MediaData

The right results, the first time. Working closely with your team, we provide complete migration project management or boutique digitization services, whatever is most appropriate for you.

See our Format Guide for a partial listing of analog and digital media we can migrate and transcode for you.

We also migrate data from legacy computer storage formats on an internet-isolated workstation that is constantly swept for viruses and malware, including Iomega ZIP, JAZ, 3.5" and 5.25" floppy disks, SyJet, Sony Memory Stick, and current formats such as CF, SD and MicroSD.